Just like every other aspect of our life, home interior design is governed by the changes that can be generally referred to as new, shifting, emerging, or returning trends. Floors, stairs, doors are all an important part of the general interior, one that creates an image and a feeling, merging with the harmonious whole or deliberately contrasting with the rest of the interior. Let us begin with colours: the colour solutions that are predicted by market professionals.
The Old English Style
This trend goes back to 2017. Dark, rich, intense colours create a look that is impressive and elegant at the same time, an image of luxury. When it comes to installing a dark floor, the main challenge is that it visually reduces the space. A rich and intense floor will look impressive where there is a lot of open space undivided by any partitions, walls, and eye can easily catch the different tones of luxury. Experts say that 2019 will be the peak of popularity of espresso and similar colours; eventually, fewer clients will opt for them, but they will always remain an everlasting classic.
Enter "Blondes": Blanched Floors
For many years, light-coloured wooden flooring have been considered something dated, out of fashion, simply cheap. Those times are already in the past, especially if we are to consider the outlook. An increasing number of homeowners want their dwelling to be bright and airy, hence we are in for a true revival of light-coloured floors on the market. A blonde/amber wooden or natural oak floor gives the residence a timeless sense of lightness. A light-coloured floor creates a feeling of space and light, which is further reinforced by the breadth of the floorboards. Oak is excellent for this type of floor, especially if you buy boards in the natural colour of this wood.
Some more daring solutions are also an option, such as blanched oak floors, which in the US are known as the California style in the semblance of sandy beaches. Blanched wood is taking over the market, creating a general image of easy stylish living. Blanched oak floors create an increasingly prevalent style of a rustic adobe. "Blanched" does not mean an even, polished surface. A blanched floor shows signs of time and history, with darker tracers of wood shining through here and there. It brings to mind a vintage style that has been recently dominating other areas as well, from clothes to landscaping. The tendency will most likely endure, and we are in for some diverse, inspired home design solutions.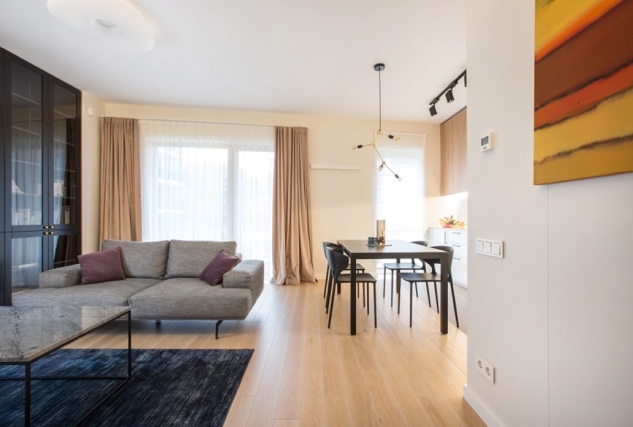 A Touch of Caramel
Wooden floors that are just a tinge darker – the colour of caramel or honey – are taking the market by storm. A honey-coloured floor is light enough to create an image of a visually larger space and airiness, at the same time radiating a sense of cosiness and warmth. Connoisseurs are unanimous on that cosy warm tones have established a lasting and dominant presence. Interior designers agree that shades of honey are here to stay for decades, and will become a sought-after classic.
Modest Grey
Five years ago, we could say that the trend of the colour grey was something new or something emerging. The popularity of grey wooden (and greyed oak in particular) floors has been growing exponentially over the past decade. Grey was quick to become the most popular trend – in addition to floors, the colour of other elements of interior design as well. Greyed doors and stairs are added to grey floors. Grey always comes as a surprise, it always wins. A greyed oak floor projects an image of a modern, contemporary adobe, for it opens possibilities to use other colours in the interior. Aqua, green, bright, or even black-and-white – it all will look impressive against the background of a greyed wooden floor.
Fashion experts recommend going for it, because greyed floors are going nowhere. On the contrary, they will be in style until you simply want to replace them – or it could be your children or grandchildren, for oak floors will last for years.