Everyone who is decorating or renovating their home has their own unique style and idea for a cosy environment. The floor is an important element of the home style, one that often dictates our choice of other interior elements. We have interviewed Miglė Gruodytė, designer with the interior design studio Dudesign, about the prevalent trends in flooring. The interview was inspired by the studio's new project in a private residence in Vilnius.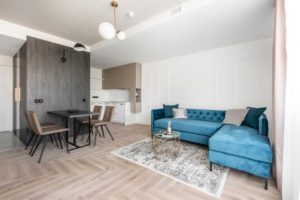 Older people remember the time when herringbone parquet was all the rage. These days we sometimes refer to this style as "old-school". You also opted for herringbone oak parquet from "Medžio stilius". Can you say that this pattern is making a revival?
Yes, the herringbone pattern is indeed experiencing a revival, and even though it hits a nostalgic spot with the older generation of Lithuanians, the younger generation also go for this kind of floor gladly. This standard pattern befits a vintage, authentic style, and if you want a bit more luxury in your interior, you cannot lose with the French herringbone style.
What is the ideal home for this kind of parquet? How should the rest of the interior be matched?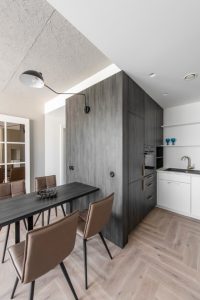 I highly recommend this parquet for Old Town properties, especially when the context is unique and authentic. There are to ways of matching this floor pattern, and they both differ radically. One of them is to consider the historical context of the property and coordinate it with more attributes that would connect with a historical or classical style, such as natural stone, wall and ceiling plaster mouldings, an art deco style, a vintage style, furniture fronts with panels, heavy velvet fabrics. Or you can adopt a modern approach, using the latest technology, maybe even unorthodox combinations of colours, which was something I did with the residence you mentioned. Generally speaking, removed from the traditional colour of oak, this herringbone pattern already looks modern.
Another way is to leave the floor as the centrepiece and design the rest of the interior exclusively after the modern fashion. This creates a slightly gallery-like impression, one that we can often see in art galleries.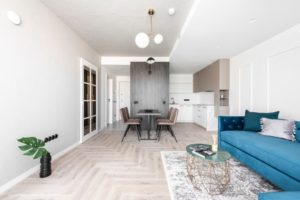 Let us talk about colour. For your project, you picked russet, and what colours are currently trending at all? What are the trends in Lithuania and abroad?
I have noticed that our clients are asking for oak in its natural colour increasingly less often and tend to experiment with shades that are rather more grey, more and more often going into extremity and choosing a floor that is either very light, greyish, white, or one that is very dark and rich of colour. People are somewhat tired of the golden intensity of wood and want to make their home cosy through textile and furniture, which is something that the more neutral colours of floor allows us to achieve.
Can we say that we miss natural wooden flooring and are going back to that? You use oak parquet. What makes it so special? What are the qualities and distinguishing features that you could identify comparing it to other floorings?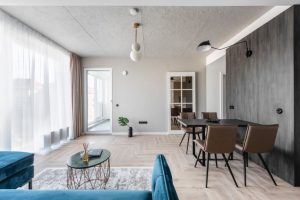 It is a natural wooden parquet.
Without any doubt, the main criterion for me here is the natural feel. I love to walk barefoot at home and I therefore hate synthetic floors – even tile is not a very pleasant flooring to me. For residential spaces that do not have any special hygienic requirements, I always recommend natural wood. I am enchanted by its feel, looks, and even the smell of its oiled surface. I particularly love the possibility of renovating an oak floor, something that I forever stress when I speak to my clients – you cannot do that with laminated surfaces. What does not fascinate me at all is that a synthetic cover installed over a heated floor will release toxic substances into the air. Oak parquet is ultimately ecological in this regard.
Thank you for the interview.
Dudesign is an interior design study under the supervision of designer Miglė Gruodytė.
"We live by the principles of functionality and aesthetics, pay attention to details, and look for intricately simple solutions, because genius is in simplicity!
Interior is more than just a harmony of colours and materials; it is a carefully premediated action plan towards a cosy and, most importantly, comfortable home. We focus on functionality, aesthetics, ergonomics. We design all kinds of interiors, from residential to public".